Portrait unveiled as face of Stoke-on-Trent as part of culture bid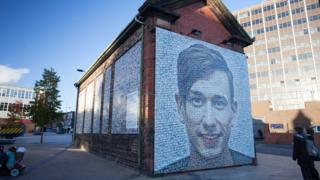 A large portrait made up of hundreds of small photos has been put up to celebrate a city's people.
The 4m (13ft) tall image of Jozef Clark, 23, was unveiled earlier for the Face of Stoke-on-Trent project.
Artist Helen Marshall said Mr Clark's image was chosen from 3,550 submitted because it provoked conversation with people "wanting to know his story".
The creation of the art work is part of the city's bid to become UK City of Culture 2021.
Coventry, Sunderland, Paisley and Swansea are also bidding for the title.
The mosaic has been installed on an electricity substation in Lichfield Street near Hanley Town Hall.
Mr Clark, who works at the YMCA and used the centre to help turn his life around, said he felt "overwhelmed" at being chosen but said the news was "brilliant".
Ms Marshall added: "What was very clear was that the image provoked lots of conversation so that's really ultimately why it was chosen."