Staffordshire Police officer 'unaware memory bear contained ashes'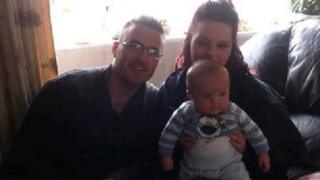 A woman's complaint police ripped her baby boy's ashes out of a "memory teddy bear" and covered up their actions has been rejected.
The police watchdog investigated the claim by Chelsea Wright, 23, from Rugeley, after Staffordshire officers searched her partner's flat in June.
Investigators say an officer believed the bear was a microwaveable warmer and was unaware it contained ashes.
But, Ms Wright said she remained angry and "not prepared to leave it there".
The Independent Police Complaints Commission (IPCC) said investigators viewed body camera footage worn by officers during the search of the Cannock flat, during an inquiry over a stolen laptop.
Midlands Live: 'Stabbed for being Polish'; Men charged with abusing care home children
Ms Wright, who said she and her partner were not suspected of committing any offence, said she told the officers the bear contained the ashes of her son Nathan, who died suddenly at 10 months old in 2014.
After officers left, she went into the bedroom where the bear was and saw "white dust everywhere and immediately knew it was Nathan".
The IPCC said the officer who spilled some of the bear's contents said he replaced "all but a small amount and did not inform anyone as he was satisfied he had cleaned it up as best he could".
"The IPCC's investigator also concluded that there was no evidence that the officer who allegedly covered up what happened was aware of the memory bear or any damage caused to it," a spokesman said.
Steve Bimson, IPCC operations manager, said the investigation involved "some very emotive issues" and recognised the distress it has caused.
"However, our investigator concluded that there was no evidence to suggest that any of the officers involved realised the significance of the memory bear or knew what it contained," he said.
But Ms Wright said: "I think it's disgusting. I've had no apology and my solicitor is now trying to get access to the camera footage... and I've contacted my local MP.
"They said it deeply affected their officers, but can you imagine how I felt?"