Lee Rigby House opens to help forces families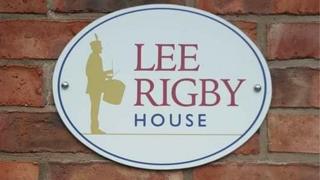 A retreat for veterans and service families set up in memory of murdered soldier Lee Rigby has opened.
The soldier's mother Lyn created the centre after her son, from Middleton, Greater Manchester, was killed outside his barracks in Woolwich in May 2013.
She has fought to get better support for parents after the death of their children in the forces.
Volunteers for the charity said the house, in Oakamoor, Staffordshire, would be of "huge benefit" to families.
The Rigby family set up the retreat because they felt there was a lack of support in the days following Lee's death.
Lyn Rigby said it had "turned a tragedy into something positive for other people".
"It's a safe haven for families," she said. "They can just come here and not have the knocks on the doors or the phones ringing."
Following a Facebook appeal by an ex-serviceman, hundreds of volunteers offered to help complete the building in time for opening.
Eventually, it is hoped there will be accommodation on the site for 40 veterans and families.