Stoke-on-Trent 'ideal home' for Channel 4 relocation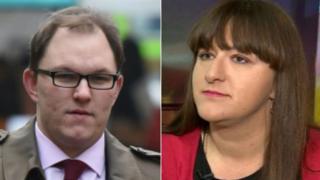 Stoke-on-Trent would be the "ideal home" for Channel 4's headquarters if it moves out of London, according to two of the city's MPs.
Ruth Smeeth and Gareth Snell have written a letter to the culture secretary to formally ask for Stoke-on-Trent to be considered.
It says the city has a "bright future" with "talented people and a thirst to prove itself".
The proposals to move Channel 4 out of London were announced in March.
Culture Secretary Karen Bradley - MP for the neighbouring Staffordshire Moorlands - wants to move some or all of Channel 4's 800 staff out of London.
Stoke-on-Trent faces competition from Birmingham, Sheffield, Leeds-Bradford, Liverpool, Bristol and Brighton, who have all expressed interest in housing the new headquarters for the broadcaster.
In the letter, Ms Smeeth and Mr Snell said if Channel 4 came to Stoke-on-Trent, it would be "game-changing" as the city continues its "renaissance as a city on the up".
Having also submitted a bid to become the UK's City of Culture in 2021, the process has allowed them to consider "all it can offer", the MPs said.
They added that as Stoke-on-Trent was already home to international brands such as Bet365, Emma Bridgewater and Steelite, "our city is ready to provide Channel 4 with the home for the future."
The letter also cited the city's "excellent transport links" to other major cities.
---
Analysis by James Bovill, Political Reporter, BBC Radio Stoke & Sunday Politics Midlands
There are plenty of bigger cities competing to become Channel 4's new home, but the fact that Stoke-on-Trent's Labour MPs have even thrown their city in to the mix shows its newfound confidence.
Stoke-on-Trent is in with a real chance of being named UK City of Culture 2021, spent last year as European City of Sport and many feel there's a buzz about the place not seen since its ceramics heyday.
But there's still a long way to go.
Stoke-on-Trent is a long way from submitting a formal bid, unlike West Midlands metro mayor Andy Street who did so three months ago and has already identified four potential locations for a new headquarters.
With a decision on a possible move expected by the end of the year, Stoke-on-Trent may not win this particular race. But it's a boon to even be in the running.
---