Kevin Nunes murder: Staffordshire Police 'mishandled' paid witness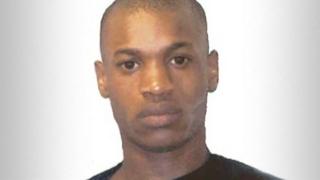 "Significant failures" by Staffordshire Police over a gangland killing led to the unsafe convictions of five men, a police watchdog report has found.
Drug dealer Kevin Nunes was seized at gunpoint and shot dead in 2002.
The men were cleared of his murder on appeal in 2012 when it emerged police paid £15,000 to a protected witness who was allegedly committing crimes.
The force has accepted the findings and highlighted no evidence of corruption or criminality by officers was proved.
The Independent Police Complaint Commission (IPCC) report follows a lengthy investigation into the handling of the witness and what the force officially disclosed.
An unnamed officer told investigators that "some officers.. aimed at ensuring a protected witness attended court and gave evidence 'at all costs'", the IPCC said.
West Midlands live: Fatal mass brawl victim named; Six-year-old girl dies after flat fire
The "costs" allegedly included concealing evidence of the witness's criminal conduct, the witnesses breaching of a memorandum of understanding with police 76 times and officers making "high levels of payments to the witness".
The witness would have also received a total of £23,000, but £8,000 was retained by the force to cover the cost of criminal damage the witness had committed.
The officer had reported his concerns but they were never properly dealt with, the report said.
The IPCC has previously recommended disciplinary proceedings be brought against four former Staffordshire Police officers who have since been promoted: retired chief constables Suzette Davenport (Gloucestershire), Adrian Lee (Northamptonshire) and Jane Sawyers (Staffordshire), together with Marcus Beale, who is still serving with West Midlands Police.
But March in 2016 it was confirmed none of them would face a hearing.
In conclusion, the report stated "there had been significant and serious collective failings within Staffordshire Police, in relation both to the management of a protected witness, and ensuring disclosure of all relevant material to the Crown Prosecution Service and the courts".
Levi Walker, from Birmingham, Adam Joof, from Willenhall, Antonio Christie, from Great Bridge, Michael Osbourne and Owen Crooks, both from Wolverhampton, had their 2008 convictions for murder quashed in 2012.
In July, Mr Christie and Mr Walker were awarded a pay out by Staffordshire Police for their wrongful convictions.
The force's chief constable, Gareth Morgan, apologised for the failings and said he was "particularly sorry" Mr Nunes's family had been let down and that his killers remain at large.
"Since the initial investigation things have changed. Numerous processes have been put into place to ensure all information is recorded appropriately, retained, and the necessary disclosure takes place," he said.