Stoke-on-Trent flat fire started in storage heater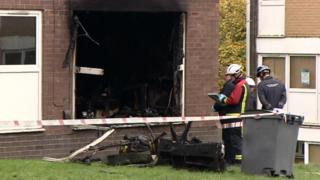 A fire which has left two children and a woman critically ill in hospital is believed to have started in a storage heater, say firefighters.
A six-month-old baby girl and boy, six, are in hospital with a woman in her 20s, believed to be their mother.
The fire, which damaged six flats in Ringland Close, Stoke-on-Trent on Sunday morning, "started accidentally", said Staffordshire Fire Service.
A man was hurt jumping from the first-floor flat above where the fire was.
For breaking West Midlands news and local news stories
The flats are owned by Stoke-on-Trent City Council which said families had been moved to temporary accommodation and a dedicated helpline set up.
David Sidaway, the council's city director, said: "We are deeply concerned and saddened by this tragic incident and our thoughts are with the families involved at this time."
He added the council would "work closely with the emergency services, to understand next steps and ensure the buildings are safe and secure".
'Difficult conditions'
Staffordshire Fire and Rescue Service said the blaze was contained to the flat but smoke spread throughout the building.
Fire investigation officer Simon Craythorn added: "The fire, which began in a ground floor flat, involved an electric storage heater in close proximity to clothing - however, the exact circumstances of the cause are still being investigated."
Glynn Luznyj, the fire service's director of prevent and protect, said crews "were met with extremely difficult conditions".
"We gained access to the block of flats and there were three casualties who were administered [resuscitation] at the scene before being transferred to hospital."
He said the building had been made safe and the service were working at the scene with police.