Stoke imam jailed for supporting Islamic State group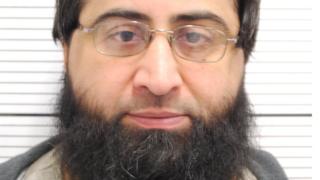 A British imam who told children martyrdom was better than school has been jailed for supporting the so-called Islamic State (IS).
Kamran Hussain, 40, gave radical sermons at a charity-funded mosque in Tunstall, Stoke-on-Trent.
He preached "hatred and division", the Old Bailey heard.
He was convicted of two counts of supporting IS and six of encouraging terrorism and jailed for six-and-a-half years.
See more stories from across Staffordshire and Cheshire here
During the trial jurors heard Hussain was secretly recorded by an undercover officer making a series of radical sermons between June and September last year.
They included one on 2 September 2016 where he talked about martyrdom to a congregation of nine children and 35 adults.
Sarah Whitehouse QC, prosecuting, said: "Mr Hussain told his audience that martyrdom was the supreme success and was greater than any other success, such as school or college."
Following his arrest, Hussain said the ability to discuss "difficult concepts in a challenging world" was an essential part of religion and claimed he was exercising his right to freedom of speech.
Sentencing Hussain, of Tunstall, Judge Rebecca Poulet QC said he had preached "hatred and division".
She said his encouragement of terrorism and support for IS was "calculated and intentional" at a time of "terrible terrorist incidents".
"In my judgment these sermons represented serious and persistent, although frequently indirect, encouragement to acts of terrorism," she said.
The court heard there was no evidence anyone had in fact been encouraged to commit terrorism as a result of his sermons.