Officers guilty of misconduct over Adrian McDonald's death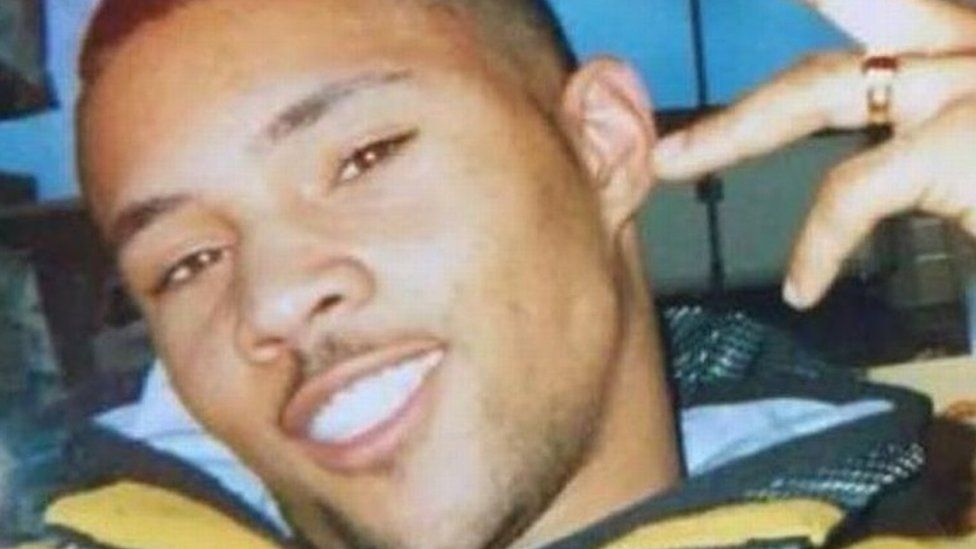 Update 30 November 2018: Insp Richard Bills, who has since retired, and Sgt Jason Bromley had the misconduct findings against them overturned by a tribunal, following a successful appeal in April 2018.
Two police officers have been found guilty of misconduct over the death of an arrested man who had been Tasered.
Adrian McDonald, 34, died in Newcastle-under-Lyme, Staffordshire, in 2014 after complaining to police of breathing difficulties.
Sgt Jason Bromley and Insp Richard Bills, both of Staffordshire Police, were accused of failure in duty of care, although it was found they did not contribute to the death.
Both were cleared of gross misconduct.
A third officer from the Staffordshire force, PC Jonathan Tench, was cleared of all allegations.
Sgt Bromley and Insp Bills - who both denied the accusations - have been given written warnings.
A misconduct hearing was told Mr McDonald had been "barricaded" at a property in Audley Road, to which police were called in the early hours of 22 December 2014.
The panel heard PC Tench and Sgt Bromley were told by a dispatcher Mr McDonald was "wide-eyed" and "disturbed".
A Taser was discharged and Mr McDonald was also bitten by a police dog, then restrained and arrested, at which time he confirmed he had taken drugs.
Sgt Bromley, the hearing was told, appreciated Mr McDonald required medical treatment - an assessment made in front of Insp Bills who had arrived at the scene.
Mr McDonald was put into a police van where he slumped and said he could not breathe, the panel heard.
PC Tench relayed this to Insp Bills and Sgt Bromley, who both went back into the property, the latter to check on the dog's welfare.
The pair both said in interviews they could not remember and did not hear PC Tench's words.
The panel was told PC Tench said on the radio that Mr McDonald had "gone a bit quiet", and nearly seven minutes after he was put in the van the officer could get no response and an ambulance was called.
Police gave CPR, which paramedics continued before declaring Mr McDonald dead.
His cause of death was given as "cocaine toxicity", but it was found earlier medical intervention would not have led to a different outcome.
Related Internet Links
The BBC is not responsible for the content of external sites.