Death probed after Stoke hospital fire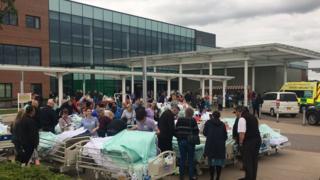 The death of an 89-year-old woman in hospital could be linked to an alleged arson attack carried out in the main building.
A fire broke out in Royal Stoke University Hospital on 7 June and patients had to be taken outside in their beds.
Staffordshire Police confirmed they were investigating whether the woman's death was connected.
Results of a post-mortem examination could take up to three months, it said.
A spokeswoman for Staffordshire Police said: "We have identified an 89-year-old woman that may have died as a result of the fire and the subsequent evacuation.
"A post-mortem has been completed and we are now waiting for a pathologist to confirm the cause of death."
Staffordshire Fire and Rescue said that while the fire was contained due to the safety design of the building, smoke did spread to other parts of the hospital.
More on this and other stories for Staffordshire
Stuart Ruckledge, from the fire service, said: "This fire did not spread out of its compartment; fire damage only occurred in a small corridor area.
"It was seen that some smoke travelled through to other parts of the hospital and a decision was made to evacuate.
"We intend to have a multi-agency debrief to look at any issues that are found."
Hospital spokesman Andrew Ashcroft added: "As you would expect following any major incident, the Trust will now undertake a review of the incident to understand what we did well and how we can improve in the future."
A man has been charged in connection with the hospital fire, and one that broke out at Staffordshire University earlier the same day.
Thomas Ashcroft, 39, of Musgrave Crescent, Sheffield, has been charged with two counts of committing arson with intent to endanger life.