Arson charge over Royal Stoke Hospital and university fire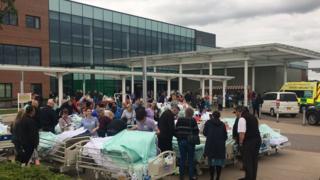 A man has been charged with arson after fires at a hospital and university.
Patients at Royal Stoke University Hospital were taken outside in their beds when a fire broke out in the main building on Wednesday evening.
The incident followed a fire in toilets at Staffordshire University earlier in the day, police said.
Thomas Ashcroft, 39, of Musgrave Crescent, Sheffield, has been charged with two counts of committing arson with intent to endanger life.