Iron Age gold attracts 20,000 to Stoke-on-Trent museum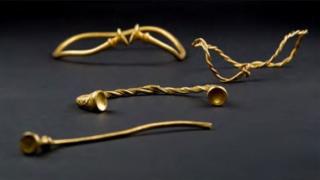 Jewellery that could be the oldest Iron Age gold found in Britain attracted 20,000 visitors to a museum in a month.
Three necklaces and a bracelet believed to be up to about 2,400 years old were on show, after two metal detectorists discovered them in Staffordshire.
A total of 20,640 people went to the exhibition between 1 March and Sunday when it closed at The Potteries Museum & Art Gallery. The museum had 11,450 visitors in March last year.
The artefacts will now be valued.
Read more news for Staffordshire
Mark Hambleton, who went back to metal detecting after advice from his late father, discovered them with Joe Kania on farmland last December.
They were found separately about 1m apart buried near the surface in Leekfrith.
Their find was declared treasure at an inquest led by coroner Ian Smith, who joked it was likely to be "worth a bob or two".
To be declared treasure, an item must be more than 300 years old, or have a precious metal content greater than 10%.
Following the Stoke-on-Trent exhibition, the city council said the Leekfrith Iron Age Torcs would now go to the British Museum where they would be valued by the Treasure Valuation Committee.
The British Museum has said the torcs were "probably worn by wealthy and powerful women, perhaps people from the Continent".
Council leader Dave Conway said: "We're thrilled to have been able to display these treasures before they have been valued and before any campaign to acquire them is made."
The council said archaeologists from the authority and Staffordshire County Council supported site investigations on the land.