D-Day tank driver from Stafford gets Legion d'Honneur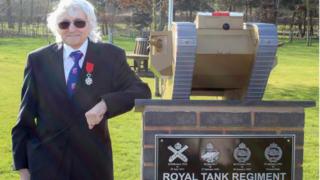 A soldier suddenly tasked with driving a tank after the D-Day landings has received France's highest accolade.
Rowland Edwards, 93, was awarded the Legion d'Honneur at the National Memorial Arboretum, Staffordshire.
Trooper Edwards drove the tank across a beach after his colleague was unable to operate it due to "immense mental stress", the arboretum said.
Mr Edwards was given the medal for his contribution to the liberation of France during World War Two.
For more news from Staffordshire
Jean-Claude Lafontaine, an Honorary Consul of France, presented Mr Edwards with the award at a ceremony on Monday.
Mr Edwards, of Stafford, landed at Juno Beach, in Normandy, where his job had been to ensure the safe progress of the Sherman tank towards Cully, as part of an objective to capture Hill 112.
Mr Edwards, who served with 29th Armoured Brigade HQ 11th Armoured Division, thanked the French government for the medal.
'Experience terrifying'
"Life in the Army was not easy and I witnessed many terrible things, but I wouldn't change a minute of it," he said.
"My time serving was an important part of my life, and while I sometimes found the experience terrifying, I had the opportunity to meet so many people and learn many things."
Members of Mr Edwards' family attended the ceremony, as well as representatives form Blind Veterans UK in Stafford, who help the ex-solder with his age-related macular degeneration and glaucoma, the arboretum added.