Driver stranded in flooded Stafford car park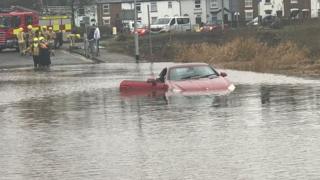 A motorist was left stranded after attempting to drive through a flooded car park in Stafford.
Flanked by the River Sow on one side and a marshland nature reserve on the other, the Doxey Road car park was badly flooded after heavy rain.
Firefighters rescued the stranded driver, who did not suffer major injuries, Staffordshire Fire and Rescue said.
The borough council has warned drivers not to use the site.