RSPCA centre in Nantwich 'inundated' with budgies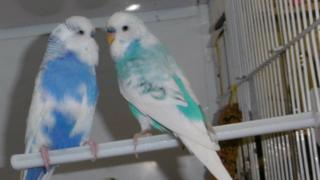 Bird lovers are being sought to re-home 21 budgies after an RSPCA centre said it had been "inundated" with the birds.
Eighteen of the birds were taken in by Stapeley Grange, Nantwich, Cheshire, after their owner died.
Manager Lee Stewart said it was unusual to have so many at the centre.
"We'd love to see all 21 of them re-homed for the new year. They would be an excellent addition to a bird lover's household," he said.