Rescue Shetland pony killed by dogs in Burntwood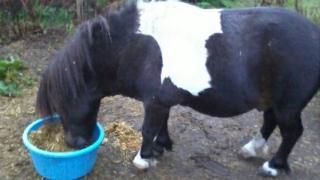 A rescue pony has been killed in a dog attack in Staffordshire.
Monty, a Shetland pony, was found dead by its owners at Lambs Lodge Farm in Burntwood on Christmas Eve.
Police said three local dogs have since been impounded and officers are checking to see who owns them and what breed they are.
The pony's owner Gary Cope said he found him lying down in his paddock and his legs and neck had been bitten. He said he was devastated by the attack.
Monty was in a "terrible state" when he first got him four years ago because of previous mistreatment, but he had turned into a "loveable little pony."
His daughter Kelly Wildman said the pony was the "apple of my dad's eye".
"He was a rescue and much loved," she told BBC News.
"My dad is devastated as he had brought him on through a difficult time when he had been terribly abused we had got him to trust."