Olympic athlete Jazmin Sawyers abused on Twitter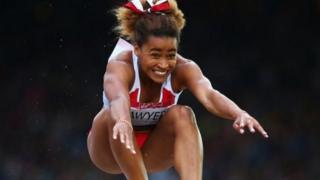 Olympic long jumper Jazmin Sawyers has been racially abused on Twitter.
The athlete, from Stoke-on-Trent, was asked by a user called "Proud Englishman" to explain "how you're British" and told to go back to Africa.
Ms Sawyers said she did not respond to the unprovoked tweets, choosing instead to publicly shame the poster, who has since deleted his account.
She has also reported the user to Staffordshire Police, whose officers are investigating.
Ms Sawyers, a finalist in the long jump competition in Rio this summer, received the messages late on Friday evening and in the early hours of Christmas Eve.
Among a number of tweets, Richie, @ProudEnglishman, told her that she should not exist because Britain belonged "to white Caucasians".
Ms Sawyers told BBC News she was shocked someone would attack her in this way.
"It was completely out of the blue. It wasn't from something I said to him or anything - it really took me back.
"I responded by showing people there are still people in this country who think it's OK to do this.
"Initially I was upset that someone in the country I live in and represent could be like this, but since it happened the outpouring of support from people has reversed that.
"When you think about it, you have to laugh really that someone has these opinions still and really, since I exposed him, he has deleted his account so what was the point?"
She said the police were "brilliant" when she reported the matter to them and urged others to contact officers if the same thing should happen to them.
In a statement, the force said "Jazmin was upset, shocked and angered" by the messages and added that police take all incidents of hate crime seriously.