Police warn 'beggars' to leave Stoke-on-Trent city centre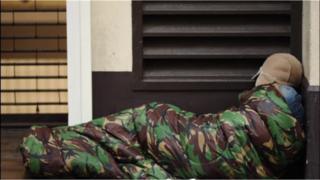 Police are warning people they suspect of begging to leave part of Stoke-on-Trent, the BBC has learned.
Officers have given letters to people it says are "portraying [themselves] to be a vagrant" telling them to stop "begging" and "sleeping rough" in Hanley town centre.
The letter says they face a fine or prosecution if they do not comply.
Critics said homeless people are being "treated like vermin", but police say they try to help rough sleepers.
More on this and other stories from Stoke and Staffordshire
Gary, who first became homeless 22 years ago when aged 15, was handed a letter by police who said he was begging.
He said abuse of homeless people in the street was getting worse, and called for more understanding from the public and police.
"You get treated like you're not a human, you're an animal - a rat," he said.
"You must find out the background of someone's reasons [for] why they're there and not just jump to a conclusion."
Jeanette Jackson, who runs Help for the Homeless, said the police's actions were "segregating" homeless people from society.
"It's just treating homeless people like vermin, and the way that they speak to them is not acceptable," she said.
A police spokesman said the force "works closely" with other organisations to help any homeless people.
Jack Brereton, Stoke-on-Trent City Council's cabinet member for regeneration, transport and heritage, said the police have been helping officials to deal with nuisance behaviour in Hanley.
"We have become increasingly concerned by the behaviour of some individuals in the city centre and we are ramping up action with partners, including the police to tackle this," he said.
"Whilst we are ensuring that the right services are in place for homeless people to get the help that they need, this means we must also take action against the minority of people who choose to behave in unacceptable way.
"We will continue to work with the police, businesses and charities to get this balance right but we cannot stand by and do nothing."