Stoke City fans warned not to walk on A50 slip road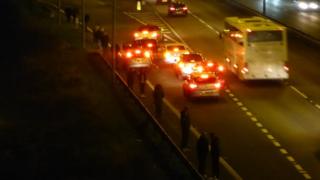 Football fans are being warned against using the slip road of a dual carriageway to be picked up or dropped off for Stoke City games.
Traffic cameras have captured fans waiting for cars and taxis on the A50 before and after games at the nearby bet365 Stadium, the city council said.
The actions of fans is "putting people at risk", a council spokesman added.
Police targeted fans ahead of Stoke's game against Leicester City on Saturday.
Councillor Jack Brereton, cabinet member for regeneration, transport and heritage, said: "We understand some people might be in a rush to get to the stadium in time for kick-off, and once the game is over people want to get home as quickly as possible, but that is no excuse for the reckless and dangerous actions we are seeing.
"These people are not only putting their own lives at risk, but the lives of others driving on the A50.
"Road safety is our upmost priority and the council, police and football club all agree this situation simply has to stop."
Staffordshire Police said it will carry out operations with the council, Highways England and Stoke City throughout the season to stop fans using the road.