Lichfield police officer attack: Man arrested over branch attack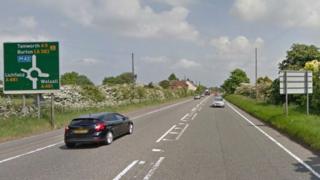 A man has been arrested after a police officer was struck by a car while trying to evade a man wielding a branch at him.
Staffordshire Police said the officer was attacked after stopping a "suspicious" lorry on the A5 near Lichfield on Tuesday.
Police said the lorry driver attacked the officer with a branch then escaped by carjacking a Ford Fiesta.
A man, 30, from Leicester, was arrested on suspicion of assault and robbery.
He remains in custody.
See more stories from Stoke and Staffordshire here
Detectives are also hunting a second man who left the passenger side of the skip lorry and ran off across fields at the side of the A5.
He is described as white and as having a round face with small eyes and facial hair.
The police officer, a 39-year-old who is based at Tamworth, was taken to hospital with serious leg and chest injuries.
He remains in Birmingham Heartlands Hospital where he has received initial surgery for the leg injury.
Staffordshire Police described his condition as "stable" but said he will need further surgery and it is not yet known if his injuries will be life-changing.
The skip lorry and Ford Fiesta have undergone forensic examinations and police inquiries are continuing.