Staffordshire £1.2bn cancer contract given green light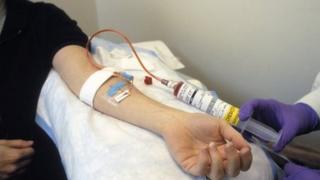 A £1.2bn plan to outsource cancer and end-of-life care in Staffordshire has been given the go-ahead by NHS England.
The project, which has attracted considerable opposition, was put on hold in January after a similar contract in Cambridge was scrapped due to financial concerns.
A 10-year contract in Staffordshire is expected to be up and running by April.
Bidders are believed to include private companies Virgin Healthcare and Interserve.
The deal includes a £690m contract to run cancer care across four Staffordshire clinical commissioning groups (CCGs) - Stafford and Surrounds, Cannock Chase, Stoke-on-Trent and North Staffordshire.
The successful bidder will be asked to co-ordinate cancer care throughout the county - from diagnosis through to treatment and end-of-life care.
The CCGs have previously said the aim was to streamline services and "provide the best cancer and end-of-life care for patients".
However, Labour MP for Stoke-on-Trent South Rob Flello, described it as an unpopular and dangerous project that could see a private provider take over NHS care.