'Strictly' kayak champ Joe Clarke turns on Stafford's Christmas lights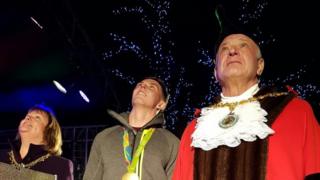 Rio gold medallist Joe Clarke has switched on Stafford's Christmas lights.
Fresh from appearing in a Strictly Come Dancing special for Children in Need on Friday, the kayak champion, from Stone, flicked the switch in front of the crowds at about 17:00 GMT.
He was also given the Freedom of the Borough of Stafford.
Clarke, a member of Stafford and Stone Canoe Club, won the kayak K1 gold in Rio in August.
He was not as successful as a Strictly dancer on Friday evening, with Team GB taekwondo silver medallist Lutalo Muhammad being crowned the winner of the Pudsey trophy.
He was up also up against gold medal-winning rower Helen Glover MBE and hockey player Hollie Webb.