Stoke-on-Trent couple's pet ban after dog's leg amputated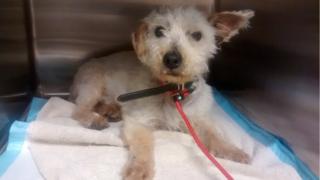 A couple have been banned from keeping dogs for 10 years after leaving their pet in such pain from a broken leg he had to have it amputated.
Marie and Steven Richards claimed Charlie, a West Highland terrier-cross, just had a small bite wound on his leg.
But when the RSPCA found his femur was snapped in half, they admitted Mr Richards had fallen on Charlie but they had no money to take him to the vets.
The pair, from Stoke-on-Trent, were each given a 12-month community order.
Marie Richards, 48, and her 51-year-old husband were convicted of causing unnecessary suffering at North Staffordshire Justice Centre. They were also also ordered to each carry out 100 hours of unpaid work.
More updates on this and other stories in Staffordshire
The RSPCA said it became involved after being alerted by a member of the public who was concerned about the Charlie's welfare.
Insp Charlotte Melvin, said it had been obvious the dog's injury was more serious than the couple had said.
"Charlie was on three legs and couldn't put any weight on his fourth leg," she said.
"When we took him to the vet an x-ray revealed that his femur was completely snapped in half an injury that was consistent with the force of being hit by a car."
The couple, from Triner Place, said they had given him paracetamol and thought he was okay because "he was still wagging his tail".
But a vet said Charlie would have suffered excruciating pain from the injury, which was at least a week old, Ms Melvin said.
"Charlie has since been successfully re-homed and is "very happy", she added.