Joshua Smith search: Fears for Stone man missing since Tuesday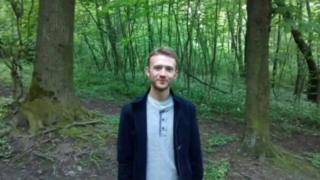 Family have been searching for a missing man who it is feared may have taken a harmful substance.
Joshua Smith, 27, was last seen at 08:30 BST on Tuesday crossing railway lines near his Staffordshire home.
Friends joined his mother and sister to search for Mr Smith, from Stone.
Police said there was some suggestion he had taken a harmful substance and due to "the potential risk of substance transfer" they asked that "no direct physical contact is made" with him.
His mother, Sara Buckley, said: "While there's any chance that we could find him and him still be alive, we just desperately want to encourage people if they've seen him, to let us know."
Mr Smith is described as thin, 5ft 10ins tall and has blue eyes.
Staffordshire Police said he "has light hair which is longer on top, a bushy beard and wears glasses".
He was last seen wearing a black three-quarter length coat, black work boots and a mustard backpack.