Missing Kidsgrove cat put down after poisoning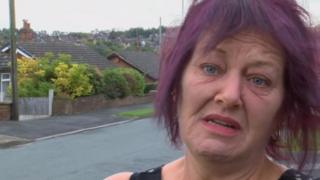 One of 10 cats that went missing from the same street in a week has been put down after being found poisoned.
Popeye was among the cats reported missing from or near Everest Road in Kidsgrove, Staffordshire, between 29 September and 6 October.
His owner Marie Castrey was told on Thursday he had been found two miles away in woodland, off Scholars Green.
She said a vet had told her Popeye had broken ribs and had been poisoned - possibly with anti-freeze.
More on this and other Staffordshire stories
"The vet told me someone found him while walking the dog in the woods," said Ms Castrey, a grandmother of seven.
"He would never have strayed that far. What's bizarre is another cat that went missing in September turned up in the same area. It's very suspicious."
The RSPCA is investigating the disappearance of the cats.