Rugeley rubbish fire: Crews leave Oak Farm after three weeks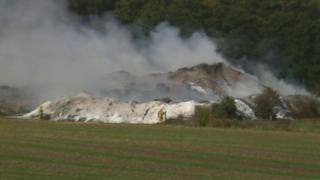 Firefighters have left the scene of a rubbish fire which burned for three weeks in Rugeley.
The fire - made up of 1,000 tonnes of waste, mainly shredded wood - began at Oak Farm on 5 September.
Staffordshire Fire and Rescue has now handed over responsibility to the county council but said it would continue to monitor the site.
Crews had been carrying out a controlled burn amid fears water supplies could be contaminated.