Adam Maybury and family ran global drugs ring from Spain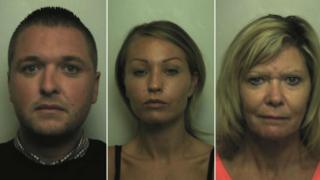 A family ran a global drugs operation from a luxury villa in Spain under the guise of selling sport supplements.
Adam Maybury, 28, led the business, which pretended to sell the supplements online but sent drugs through the post.
Maybury, from Staffordshire, worked with his mother, sister, cousin and best friend, on an operation that earned average monthly payments of £45,000 at its peak.
All five were sentenced at Birmingham Crown Court on Thursday.
Maybury, from Burntwood, who admitted conspiring to import and supply class A and B drugs and money laundering at earlier hearings, was jailed for nine years
His business partner and best friend Thomas Marshall, 28, also from Burntwood, was found guilty of conspiracy to supply and import class B drugs and money laundering following a four-week trial. He was sentenced to two years and nine months
Maybury's mother, Caroline Wakefield, from Burntwood, admitted money laundering and was given a 12-month sentence suspended for 18 months
Maybury's sister Faye Maybury, 30, from Bloxwich, in the West Midlands, admitted conspiring to supply class B drugs and money laundering and was sentenced to two years, suspended for 18 months
Dean Russell, 27, from Burntwood, Maybury's cousin, admitted conspiring to import class B drugs and money laundering and was jailed for three years
The National Crime Agency (NCA) said the synthetic drugs were imported from Holland and then distributed around the world, including Japan, New Zealand and Brazil.
Marshall was responsible for dispatching the packages from Spain until he fell out with Maybury over money. Russell then took over Marshall's role.
Maybury's mother leased offices in Burntwood and opened and managed accounts, card processing facilities and companies to help import and supply drugs.
She sent a text to her son at one point saying: "I am getting a bit worried about all your dodgy dealings Adam just be careful x", the agency said.
Faye Maybury worked in the UK, running the group's websites and checking payments, while posting packages.
The conspiracy lasted from June 2011 to September 2014, the agency spokesman added.