West Midlands firefighters to wear body cameras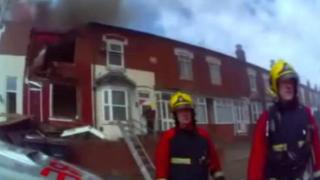 Firefighters in the West Midlands are to wear body cameras.
Watch commander Gemma McSweeney said the cameras would help firefighters gather information to review their responses to incidents.
They are being rolled out after a trial at ten Birmingham fire stations earlier this year, during which a suspected gas explosion at a Birmingham home was filmed.
The fire service said 80 cameras would be introduced in early 2017.
In June Hampshire Fire and Rescue Service said its firefighters would wear helmet-mounted cameras, a decision the Fire Brigades Union warned "could compromise neutrality".