Staffordshire University puts 81 jobs at risk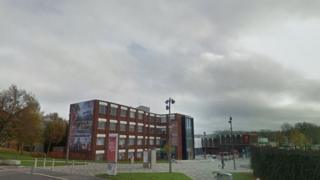 Eighty-one jobs are at risk at Staffordshire University.
The Stoke-on-Trent-based university wants to consult on a new academic structure to give students "the best possible experience".
The jobs at risk were all at a senior level and teachers would not be affected, a statement said.
It added: "It is anticipated that many will be able to apply for roles in the new structure or will be offered the opportunity of voluntary redundancy."
The university - which also has a site at Stafford - wants to open six schools in digital technology, engineering, health and social care, psychology and sport, creative arts, and law.
It currently employs about 1,400 people.
Vice chancellor Prof Liz Barnes said the changes were not about saving money but "putting our students first".
She added: "Whilst this period of change is not easy for staff and those directly impacted, we are committed to consultation and staff will be offered guidance and support throughout this period."
The university said it hoped the changes would be complete by the end of the year.