'Medieval' pit found under Tamworth car park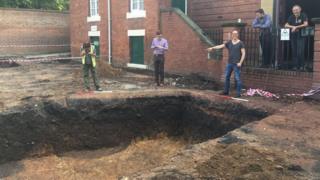 A suspected medieval pit has been found beneath a car park in Staffordshire.
It was discovered by archaeologists excavating the Corporation Street car park in Tamworth ahead of a project to redevelop Tamworth Assembly Rooms.
Around the edge of the pit they found three small pieces of pottery, which have been sent away for analysis.
The site is near St Editha's Church - believed to be the heart of a development where a possible Saxon palace was located.
Archaeologist Stephen Dean said the find could reveal more about the history of Tamworth.
"The pit is quite a large feature and the pottery found at the edges is very dark," he said.
"It looks like it could be medieval or earlier, but it will now be sent off for dating and analysis to establish its origin."
Experts believe the pit may have been used as a place for people to keep rubbish.
Tamworth Borough Council commissioned Wessex Archaeology to explore the site ahead of the restoration of the assembly rooms.
The find means the dig is continuing in an attempt to uncover further evidence.
Councillor Steve Claymore, Tamworth Borough Council's cabinet member for regeneration, said it was "potentially a very exciting discovery".
He said: "Tamworth has a rich history as the ancient capital of the Anglo-Saxon kingdom of Mercia and the area around St Editha's Church is believed to have been a significant site at that time, so it will be interesting to find out what the pottery is and whether there is anything else down there."