Police stop Stafford charity tents for homeless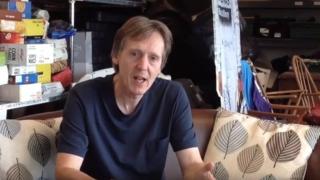 A charity which donates tents to a town's homeless has been ordered to stop by police after complaints.
House of Bread in Stafford has issued around a dozen tents out to people claiming they have nowhere to live.
But police said a "tent community" is developing in the town centre, with complaints of a rise in drinking and drug abuse.
The charity has been issued with a Community Protection warning. A meeting of trustees takes place on Thursday.
House of Bread, which has been operating for six years, assesses people before giving them tents. It also puts people up in bed and breakfast accommodation.
William Morris, the organisation's director, said he had received two letters, one addressed to him and the other to the charity, informing him of the police action.
He would not comment ahead of discussing it with the charity's trustees.
Community Protection warnings can be handed out by police officers, community support officers and some council officers, requesting a specific behaviour to stop. Failure to comply with the notice can result in an individual being fined £2,500 or a business £20,000.
Staffordshire Police said a Community Protection warning letter was handed to Mr Morris. The force said it issues them "only after all attempts have been made to engage with those involved and there has been no decrease in the levels of anti-social behaviour".
"Unfortunately Stafford Borough has an issue whereby a tent community is developing within the town centre leading to a number of complaints of drunkenness, and evidence of drug misuse," said a spokeswoman.
"We are endeavouring to provide support to those in genuine need who find themselves homeless. Through our inquiries it has been made clear that this, for some, is a chosen lifestyle.
"We are working closely with the council on preventative measures."