Fish die as sewage pollutes River Trent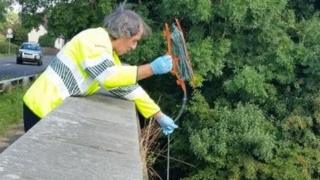 More than 15,000 fish have died after sewage polluted the River Trent.
The Environment Agency said a "large stretch" of the river had been affected in north Staffordshire and workers had been treating the water.
The source of the pollution has been stopped and the cause of the problem is being investigated, the spokesman said.
"We are continuing to monitor the situation and conditions in the river appear to be returning to normal," he said.
"Because of the on-going investigation and the fact we are still considering our enforcement response, we are unable to give any further information about who is responsible at this stage."