Missing Sir Antony Gormley sculpture was 'taken by artist'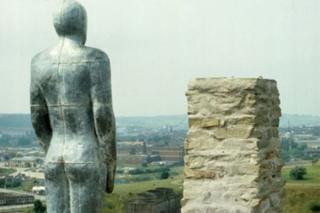 A life-sized Sir Antony Gormley sculpture reported missing was actually taken by the artist himself, a council has now said.
Historic England said A View, A Place - one of a number it was seeking to trace - had not been seen since a festival in Stoke-on-Trent 30 years ago.
But the city council said it understood Sir Antony had removed the sculpture to display elsewhere.
The BBC has asked a spokeswoman for the artist for a response.
Historic England said on Thursday the life-sized figure overlooking the Fowlea Valley was created as part of the 1986 National Garden Festival, but was removed when the event finished.
"When the festival closed the sculpture was removed and to date its whereabouts are unknown," it said.
Art UK has previously said it understood there was a dispute between the city council and Sir Antony after the festival.
But Stoke-on-Trent City Council spokesman Andrew Brunt said an email from the developer of the Garden Festival site had clarified what had happened.
"At the end of the festival, there was the opportunity for some sculptors to take their art onwards and away with them," he said.
"He said that Antony Gormley wanted his sculpture back to display elsewhere, so he took it.
"Not a case that it was lost, not a case that there was a dispute."
A spokeswoman for Historic England said: "It could well have gone back to the studio - we just don't know. If it has, that's brilliant. As far as we know, it's not on public display."