Huntercombe Hospital: Failings identified by CQC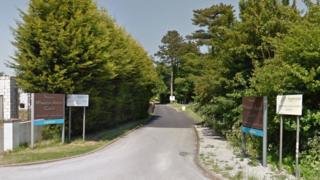 A hospital which cares for children with mental health issues has been placed under special measures by watchdogs.
Huntercombe Hospital in Stafford was criticised by the Care Quality Commission (CQC) after inspectors identified several serious failings.
A whistleblower prompted an inspection at the hospital, which cares for 39 children.
The hospital said it was working to improve, and to address the concerns.
Self-harmed
During inspections in April and May, a staff member did not intervene when a child repeatedly banged their head against a wall, inspectors said.
Another young person self-harmed so severely using a "contraband" item that they required emergency medical treatment, the CQC report revealed.
Inspectors highlighted over-use of restraint; insufficient staff numbers in key areas; and issues around staff training and medication doses.
Dr Paul Lelliott, the CQC's deputy chief inspector of hospitals, said that feedback from patients and carers was "largely negative" and some carers described staff behaviour as "punitive".
"Despite being aware of the safety concerns at the hospital, the executive team within the wider Huntercombe group did not act or respond at the pace required to address the issues in a timely or decisive manner," said Dr Lelliott.
A spokesman for The Huntercombe Group said: "The inspectors' verbal feedback acknowledged that improvements had been made.
"We deeply regret that some aspects of the service had fallen below the high standards that we are committed to provide. We are confident that the centre has been turned around by the strengthened management team and it has made good progress towards returning to the standards that we expect of it."