Bacteria warning at Chasewater Reservoir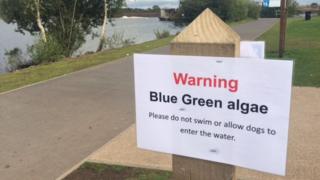 Visitors to a Staffordshire reservoir are being warned not to swim in the water because of potentially harmful bacteria.
A small amount of suspected blue-green algae blooms have appeared at Chasewater Reservoir and posters have been put up advising people of the dangers, the county council said.
If ingested, they can upset stomachs and cause pets more serious illness.
Tests will confirm if the algae is the naturally-occurring bacteria.
'Warm weather'
Sailing, water-skiing and Wakelake activities are unaffected as the blooms are only around the circumference of the lake, the council said.
Councillor Gill Heath, cabinet member for the environment, said it was important to let people visiting the 360-hectare beauty spot know about potential problems in the water while waiting for the results next week.
"It's fairly common and tends to come and go itself, and we suspect the growth is likely just a natural result of the warmer weather we've had," she said.
"Chasewater is not a swimming lake and people shouldn't be diving in for a swim at any time, but it does get popular on Bank Holidays when the weather is good.
"The algae will only cause upset if it is ingested, so we're just advising people not to swim or let their pets swim in water where algae blooms obviously present."