Rihanna and Bieber rock V Festival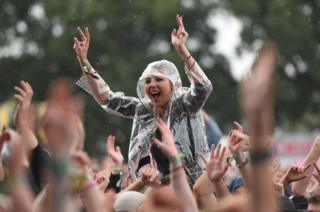 Rihanna and Justin Bieber were among hundreds of acts who entertained more than 80,000 music lovers at V Festival.
The event takes place on two sites - Chelmsford in Essex and Weston Park on the Staffordshire/Shropshire border.
The site enjoyed some good weather on Sunday, a day after it was blasted by high winds and pouring rain.
Fifteen people were arrested for drugs offences, and 1,218 people were treated for injuries, said West Midlands Ambulance Service.
More about the V Festival clear-up operation
Andy Redhead, one of the organisers, said there were "more people than the last couple of years" which made it a "great event for our 21st birthday".
A clear-up operation is underway by volunteers who will donate camping equipment left behind to countries that need aid.