Newcastle traders could face court over unpaid BID levy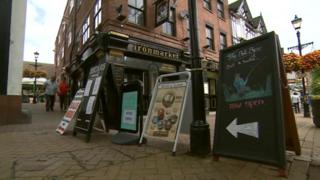 Nearly 200 traders could be summoned to court for failing to contribute towards the Business Improvement District.
Firms in BID areas are charged a levy on top of business rates, which 189 traders in Newcastle-Under-Lyme have not paid.
Some traders have expressed concern the £160 levy is not worthwhile.
But the Town Centre Partnership has insisted funding the BID scheme is beneficial for the town.
There are around 200 BIDs across the UK, which were introduced to develop and promote towns.
Once an area has signed up to be part of the BID, payments are compulsory for a maximum of five years.
Craig Woodward owns Oscars Cafe and received a warning letter: "You have to pay that all in one go. You can't spread it over 12 months or six months. And for small businesses, it's a lot of money.
"I've got to pay because if I don't pay, there are more charges on top."
Viv Bradford from Newcastle-under-Lyme BID said: "This is a long-term project. We've not even been going 12 months and have had many events in the town.
"We've had additional funding from the Arts Council. That would never have happened without the BID."
Trevor Miles from Newcastle-under-Lyme Chamber of Trade said: "BID has put on various events to attract people to the town, which have been good.
"But some businesses saw a loss in income because of the location of these events."
He said the Chamber is in support of BID but is concerned that some of its traders do not find it worthwhile.
Mark Ross from Association of Town and City Management said: "About one in ten BIDs might see a small percentage of business owners not wanting to pay.
"We would urge them to become involved, to see the benefits, and the five-year plan will justify that investment," said Mr Ross.
Businesses in Newcastle-under-Lyme have two weeks to pay the levy before having to appear in court.