Cheadle Hospital's 47 post-surgery beds to close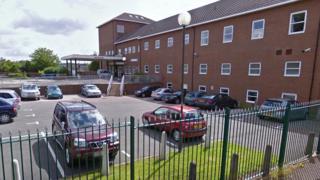 All 47 beds used by patients after surgery or treatment at a Stoke-on-Trent hospital are set to close.
It is hoped shutting the two wards at Cheadle Hospital will enable more patients to recover at home.
North Staffordshire Clinical Commissioning Group (CCG) said staff would be redeployed elsewhere but there were no plans to close the hospital.
A consultation will take place over how best to use the space including for residential or extra care services.
Rob Irving, from Unison, said although staff may get work elsewhere, they will have further to travel.
More reaction to this and other Stoke stories
The two wards provide care for patients who have been judged to need a stopover between hospital and home, having had surgery or treatment.
Katherine Murphy from Patients Association said: "Whilst we welcome the developments in health care and science that allow patients to return home sooner, we also offer a word of caution.
"There may be patients who have additional and complex needs that would be better suited to receiving full time care after their treatment, and so we hope that Cheadle Hospital have made provisions for such patients."
'Not perfect solution'
The CCG has introduced a model of care to reflect what it says is preferred by patients.
Marcus Warnes, from the organisation, said: "Patients tell us that they want to be treated at home wherever possible and certainly they tend to have better health outcomes where that takes place.
"Although the two wards are closing, [we] will be looking to use Cheadle Hospital's resources more effectively to support our patients, considering alternative uses for the space such as social, residential or extra care services."
The wards will close in the autumn.
Mr Irving said: "If these plans go ahead, there is hopefully not going to be any job losses because we have vacancies at [other hospitals] that could be filled.
"However, a lot of staff may live around the Cheadle area. It's a long way to travel, a difference of job, it may not be the perfect solution."