'Data protection row' cat owner reunited with pet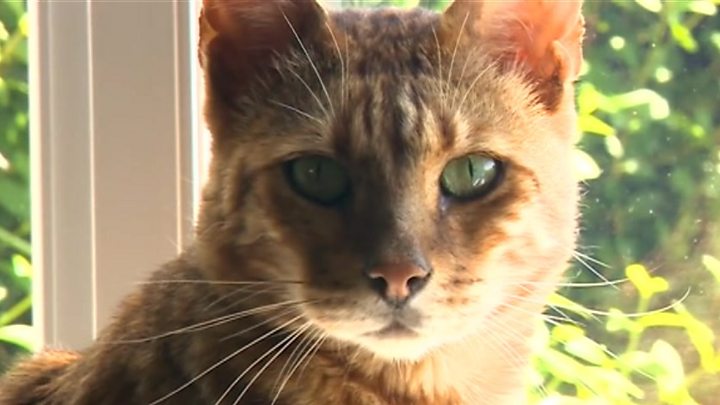 The owner of a cat which vanished four years ago had to fight to reclaim him, despite microchipping her pet.
Tigger was reported missing in 2012 from his home in Drayton Bassett, Staffordshire. But recently Karen Young received a letter from a microchip database for a change of ownership.
The firm, Petlog, said disclosing its new location would breach data protection laws.
However, after a social media appeal she was reunited with Tigger last week.
Petlog added: "Microchipping a cat is not proof of ownership."
For more stories about animal rescues and lucky escapes follow BBC England's Pinterest board here.
"I thought because he was microchipped, somebody [the finder] would hand him in," said Ms Young.
But she learnt this was not a legal requirement.
"It's up to the integrity and goodwill of people who find your cat to return it. If it falls into the wrong hands, they can hide behind the Data Protection Act."
Ms Young learnt the Bengal cat was about eight miles away, in the Sutton Coldfield area through a social media appeal and contacted police.
The family who had the cat contacted her and they were reunited last week.
"The people who had Tigger said they purchased him for £200 from a woman who was moving to a high-rise flat."
She believes her cat may have been stolen and sold on.
"Why it took four years for the microchip to show up I don't know", she added.
Petlog said "microchipping is not proof of legal ownership" and its role is to "reunite lost pets by holding up-to-date contact information".
"In the case of stolen pets... Petlog will work with the police and other relevant authorities, but it is against data protection legislation to provide personal data to third parties."