Stoke-on-Trent canal's £1m makeover to boost visitors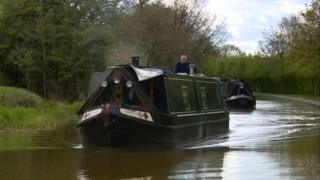 One million pounds is being pumped into a 250-year-old canal network to attract new visitors.
Repairs and improvement works to the waterways in Stoke-on-Trent are hoped to improve tourism to the city.
The Canal River Trust has agreed to work with the city council to deliver the programme in 2017.
The plans mark 250 years since work started on the Trent and Mersey Canal, which helped the Potteries become the global centre of ceramics.
More on this and other Staffordshire stories
Councillor Jack Brereton is overseeing the project and said it will "encourage more people to cycle, walk, use the canal corridor, make it more attractive to visitors to the city but also those people who use it on a daily basis".
The works will include new signage, new access points, upgrading existing entrances, resurfacing, bridge works, new boater facilities, improvements to canal side buildings, new seating and lighting.
The project is due to begin in May 2017 and scheduled to finish by the end of the year.