Rare Staffordshire conscription appeals published online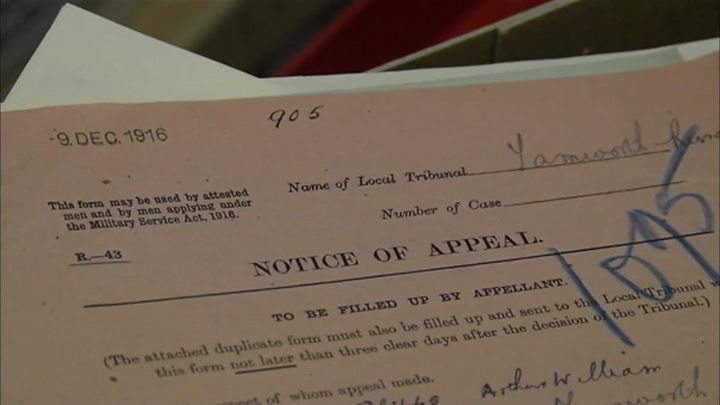 A rare collection of 20,000 World War One conscription appeals that should have been destroyed have been published online.
They document hearings in Staffordshire of men fighting conscription to the war, which was introduced in 1916.
Those who sought exemption were brought in front of Military Appeal tribunals. If unsuccessful, men could be ordered to carry out hard labour.
Not all were conscientious objectors, many objected about economic hardship.
Staffordshire Archive and Heritage Service said after the war, for unknown reasons the Ministry of Health ordered all tribunal records be destroyed, but an oversight meant the county's collection survived.
The records provide an insight into the lives of Staffordshire men called up to service, the heritage service said.
More updates on this and other stories in Staffordshire
In one case, 23-year-old Jack Basham, was sentenced to nine months hard labour at a court martial after the tribunal panel did not accept his reason.
He argued: "I hold life to be sacred and cannot conscientiously perform any task which will directly or indirectly help to make the machinery of war more efficient.
"I would not take the military oath and will suffer any penalties which are put on me."
In another, documents show Arthur William Phipps, a gardener on the Peel estates, now Drayton Manor Park and Zoo, succeed in gaining an exemption twice but eventually agreed to join up on condition he was not put in the front line, arguing the state would have to pay to bring up his children if he did not return.
He was sent to Palestine and then Salonika in Greece towards the end of the war, the heritage service said.
Conscription
Until 1916 Britain depended on a vigorous recruitment campaign to find the men to serve on the Western Front
It led to the formation of the Pals battalions, groups of men who joined up and often died together
An increase in casualties and drop in recruits meant the government introduced conscription for the first time in the country's history in January 1916
The Military Service Act became law, requiring men aged between 18 and 45 to join up, with a number of exemptions
In May, the act was widened to include married men and two years later the upper age limit was raised to 51