Stafford prison's ageing inmates 'not getting enough care'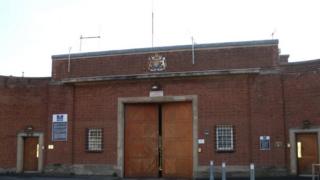 Some of HMP Stafford's ageing inmates are not getting the care they need, a report has found.
Up to 20% of the population is over 60 and many have serious health issues not being treated effectively, the Independent Monitoring Board said.
The prison, which switched to house only sex offenders last year, has been releasing inmates without adequate resettlement plans, the board said.
In response, the prison blamed budget cuts on its lack of resettlement plans.
The report did stress however, there was a stable environment at the jail.
More updates on this story an others in Staffordshire
But, inspectors said there must be improvements between prisons and hospital trusts, so that routine testing equipment and technology for remote consultation can be introduced in the prison.
In June, the chief prisons inspector said he was not "not confident" the release of more than 120 sex offenders from the prison was "safe".
A prison spokesman said: "HMP Stafford, which is hampered by budget constraints, cannot be held responsible for the lack of Sex Offender Treatment Programmes, nor for the fact that those prisoners who maintain their innocence can receive no help.
"The prison is a designated Sex Offender Hub and not what is known as a Resettlement Prison, which would be funded to prepare people for discharge in such crucial areas as accommodation, employment and benefits.
"Despite this, up until recently 20 to 25 men were released from Stafford per month without that preparation."
Other areas inspectors were positive about included the high level of prisoner engagement with work and education and the "productive and effective" relationships between staff and prisoners.