Man dies in police pursuit crash in Newcastle-under-Lyme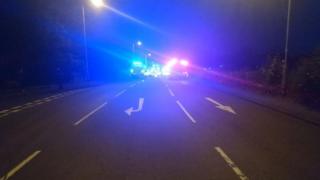 A 22-year-old driver who was being pursued by police was killed in a crash with another car in Staffordshire.
West Mercia Police said it was following a Vauxhall Corsa over a suspected offence before the crash on the A53 in Newcastle-Under-Lyme.
One passenger is in a critical condition. Two other people were hurt.
The Corsa had earlier hit a man who approached a group believed to be stealing plant machinery from his yard in Audlem, Cheshire Police said.
More on police pursuit death crash
The 49-year-old was assaulted when he approached the group in the Green Lane yard on Sunday.
"As they made their escape they were in collision with the man, causing him injuries," a police spokeswoman said.
Elizabeth Huntbach, from Cheshire, said it was her son Norman who suffered a serious knee injury when the car hit him.
Ms Huntbach said she had been with her son when they saw a burgundy Vauxhall Corsa in the yard at about 20:00 BST.
"We went out to ask what was the matter and found thieves trying to steal a forklift truck," she said.
"Norman apprehended them, they rushed to the car and came and ran him down.
"He was badly injured and is in hospital waiting for an operation now."
A series of tweets from Market Drayton's Safer Neighbourhood Team said the Corsa had also been involved in "crime" in the villages of Woore and Norton-in-Hales in Shropshire.
The fatal crash happened on the Market Drayton to Newcastle-under-Lyme road between the Swan with Two Necks pub and Baldwins Gate, Staffordshire Police said.
The Independent Police Complaints Commission has started an investigation.