Syrian refugees 'racially abused' in Stoke-on-Trent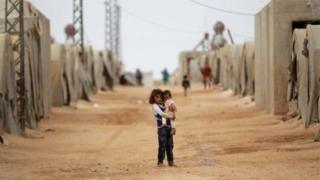 Two families of Syrian refugees have been moved after an alleged racist incident hours after one was taken to a home in Stoke-on-Trent.
Problems began when a city council employee asked a neighbour of one of the families to turn down music.
The man then abused the council worker and racially abused the family, the council said.
Staffordshire Police confirmed it was investigating the incident, which occurred at about 18:30 BST on 30 June.
The family was taken to relatives in the city before both were moved while the council finds "appropriate" housing.
More on this and other stories from Stoke and Staffordshire
Randy Conteh, city council cabinet member for housing, said in a statement it was an "isolated incident" at the house.
"To avoid this unsettling the family, who were indoors at the time, we acted swiftly and took the decision to move the family in with one of the other Syrian families," he said.
"The other Syrian families who came to the city at the same time are settling in well, with support plans being delivered for their health, education and wellbeing.
"We are all united in wanting these families to be able to settle happily in the city away from the trauma they have suffered."
'So frightened'
Rev Sally Smith, who runs refugee charity Sanctus in the city, let the family stay at her home after the incident.
She said the refugees were given "a really bad welcome" to the area, and called for the council to work with groups helping refugees.
"They were so frightened that they were saying they wanted to go back to Syria," she said.
"Between us, working with the council, we could provide a very warm welcome, and these families could feel very integrated into our community."