Review into returning maternity services to Stafford's hospital begins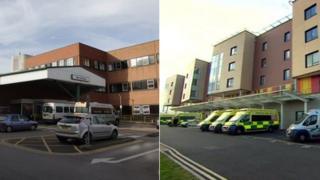 A review into whether maternity services could return to Stafford's hospital has begun.
Consultant-led services were moved from the former Stafford Hospital to the Royal Stoke Hospital in January 2015.
The government asked NHS England to undertake a review into the matter after recommendations from administrators of the former Stafford Hospital (now County Hospital) trust.
The review will look at if the hospital can provide safe maternity care.
Many people criticised the move to Royal Stoke with the Support Stafford Hospital group highlighting extra journey times and suggesting the Royal Stoke Hospital would struggle to cope with the extra demand.
Stafford is about 17 miles (27 km) from Stoke-on-Trent.
Maternity services moved to Royal Stoke when the new trust, the University Hospital North Midlands NHS Trust, formed to take over the running of the former Stafford Hospital in October 2014.
The previous hospital trust was declared clinically and financially unviable and was at the centre of a major public inquiry into care failings from 2005 to 2008.
But special administrators of the former Mid-Staffordshire Hospitals Trust recommended the sectary of state look at the move, leading the government to request the NHS England review.
The review panel will hold a "listening event" for members of the public in September.