Stoke man charged after PCSO assaulted in Hanley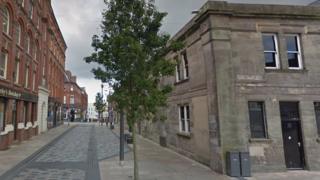 A 27-year-old man has been charged after a police community support officer (PCSO) was assaulted.
The officer was taken to hospital with a head injury after the attack on Percy Street, Hanley on Sunday, said Staffordshire Police.
The man from Stoke-on-Trent has been charged with theft, assault and criminal damage.
He has been released on bail to appear before Newcastle-under-Lyme magistrates on 19 July.
Another officer was also assaulted in the incident but did not require hospital treatment.
Police have thanked passers-by who came forward to assist the officers during the altercation.