Stafford Tesco uses wheelchairs for flooded shoppers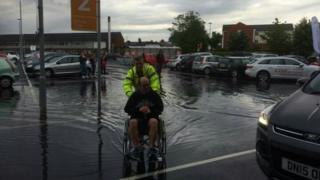 Shoppers were ferried in and out of a supermarket in wheelchairs when its entrance and car park flooded.
Staff at Tesco in Stafford came up with the idea when the ground around its front doors became submerged under six inches of water.
Workers donned wellies and waterproofs and carried "around 40 or 50 people" to and from their cars.
The flash flood on Wednesday happened at about 15:00 BST and did not subside for four hours.
"There was a sudden heavy downpour and within minutes it was like a "protective moat", said customer experience manager Graham Hodsdon.
Latest on the weather and other Staffordshire stories
"People couldn't get in or out unless they walked through it. A few people tried and they were soaked up to their knees.
"That's when we decided to use the store's wheelchairs.
"One of our guys also drove customers' cars to the front of the store so they could load their shopping into them."
Mr Hodsdon said shoppers had been full of praise for their quick thinking, posting pictures on social media.
The West Midlands has been one of the worst-hit areas in this week's downpours, with Birmingham's Heartlands Hospital declaring a major incident after its accident and emergency department flooded.
The Bullring, Mailbox and Grand Central shopping centres were also affected. Forecasters have warned more flash flooding is expected.