Tree fall death man Richard Holden, 28, 'was being chased'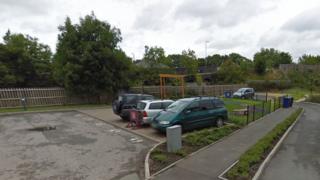 A man has died in a fall from a tree after telling police he had climbed it to escape a gang who were chasing him.
The man, named as Richard Holden, 28, made a "distressed" call to police in Burton-upon-Trent saying he was being chased by a gang and had climbed a tree
After making the call at about 01:00 BST, police believe he then fell from the tree near Pipers Way and Dallow Street Bridge.
He was taken to hospital but died while undergoing treatment.
Detectives have appealed for witnesses and called on anyone with information to come forward.