MBE for wheelchair-accessible toilets campaigner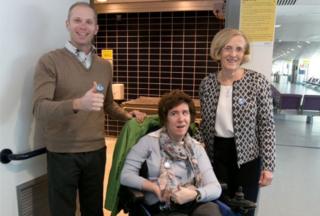 A man who has campaigned for the provision of wheelchair-accessible toilets has been appointed an MBE.
Tony Clough, 38, of Lichfield, has campaigned for Changing Places toilets with space for the user, their carer, a changing bench and a hoist.
His work began after seeing his mother, Margaret, struggling to meet the toilet needs of his severely disabled sister, Julie, when they were away from home.
He said he was "humbled" his work had been recognised with "such an honour".
Mr Clough has campaigned for much of his adult life and his work continued while he was having treatment for a brain tumour.
He said: "I am just a carer for my sister. I see myself as a normal bloke who just sends a few emails and makes a few calls.
"Hopefully, I can use the honour to help raise awareness, open more doors."
Fellow campaigner Martin Emery said Mr Clough had "been instrumental in the success of campaigns, including my own campaign to get Changing Places at Old Trafford.
"Tony was the first person to ask Manchester United for these facilities... and a Changing Places facility is now in place at Old Trafford."