Water Plus creates hundreds of Stoke-on-Trent jobs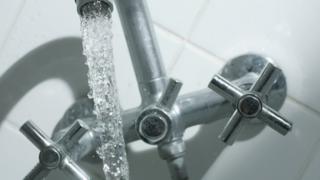 Two of the UK's largest utility companies will create hundreds of jobs in a new joint enterprise.
Severn Trent Water and United Utilities have won permission from the Competition and Markets Authority to create Water Plus.
The venture will allow Water Plus to provide services for business customers when new competition rules are introduced from April 2017.
The new rules will allow eligible customers to switch water providers.
The choice will involve services such as billing and customer services, but not the water supply itself.
In Scotland, businesses can already choose such suppliers.
Water Plus will be based in Stoke-on-Trent.
Staff currently in business retail departments at Severn Trent's base in Coventry and United Utilities premises in Warrington will be asked if they want to relocate to the new company, be redeployed or be considered for voluntary redundancy.
Any remaining roles will go to new employees.
Water Plus, the first private sector tenant for the city's Smithfield development, will be based next to Stoke-on-Trent City Council's new headquarters.
Updates on this and other Staffordshire stories
It will move into its new home by the end of May.
Sue Amies-King, chief executive of Water Plus, said: "We love the building and the area. It's a vibrant place for us to do business. We are looking forward to having a really positive impact in the city."
Council leader Dave Conway said: "The news means hundreds of new jobs for people in Stoke-on-Trent - it is quite literally life changing."
Ofwat is also considering giving householders choice over parts of their water services and will report back in summer 2016.