Staffordshire rail hub masterplan to 'reduce congestion'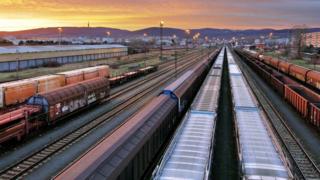 A freight rail hub is proposed for land off the M6 in Staffordshire in a bid to reduce lorry congestion on motorways.
West Midlands Interchange would link to the motorway and the West Coast Mainline allowing the transfer goods between lorries and trains.
It is earmarked for land west of junction 12, near the village of Gailey.
The development would include large warehouses where major manufacturing and logistics firms would be based.
Strategic Rail Freight Interchanges enable goods to be transferred between different modes of transport. Their aim is to use more trains to carry freight, therefore freeing up space on the roads.
Four Ashes Limited is behind the plans and will be consulting with businesses, residents and councils over the next 18 months before submitting a planning application to the Planning Inspectorate towards the end of 2017.
No building work is likely to take place before 2019.
The interchange is planned a few miles of north of the i54 business park, where Jaguar operates an engine factory and aerospace giant Moog is based.
The development will be funded by privately owned property firm Grosvenor Group and is being constructed on land largely owned by Piers Monkton of 18th Century Staffordshire mansion Stretton Hall.
Analysis: Peter Plisner, BBC Midlands Transport Correspondent
Rail freight interchanges are nothing new.
DIRFT in Northamptonshire has been a big success capturing some big names companies keen to switch some of the goods they move from road to rail.
In the West Midlands, Hams Hall in north Warwickshire also has a railhead and again large volumes of goods are moved from there by rail.
What's new about the latest scheme is that it's in Staffordshire and close to the M6 and the West Coast Mainline.
They're two of the most important strategic routes in the UK.
Four Ashes Ltd is a consortium led by Kilbride Holdings, which specialises in rail infrastructure serving business and industry.
Managing director of Four Ashes Limited Peter Frost said: "A strategic rail freight interchange is something that has been long identified as essential for the future prosperity of the West Midlands region.
"The region's strong logistics and manufacturing industries will need faster, more reliable transport links in future to attract global business and investment."
Christopher Snelling from the Freight Transport Association said: "Using rail freight helps reduce emissions, improve safety and manage road congestion.
"Improving the range of rail freight interchanges is critical to enabling companies to make the most use of rail freight.
"As a major distribution hub for the UK, the West Midlands is a good location for increased rail access."